Roughly half of all American adults suffer from musculoskeletal (MSK) conditions — as many as the total percentage of Americans living with a chronic lung or heart condition. Along with the pain inflicted on so many, MSK conditions cost the U.S. an estimated $213 billion in annual treatment, care and lost wages — a burden that falls disproportionately on the shoulders of employers. In 2017, for example, these conditions were the leading cause of both short- and long-term disability, with an average annual payment of $13,052 per claimant for long-term disability and $5,869 for short-term disability.
Despite the devastating impact of MSK disorders, research investment in new evidence-based treatment and pain management lags behind that of other high-cost medical conditions. As a result, patients are routinely subjected to unnecessary or redundant imaging and specialist visits — racking up bills without accountability to outcomes — and the routine practice of prescribing opioids has contributed to a nationwide crisis.
In an effort to fill this gap, the Crossover Health clinical team initiated a study to examine the potential of acupuncture, offered within our clinic-based integrated care model, for defining a better and more cost-effective standard of care for MSK treatment. The study's results, published in the Journal of Acupuncture and Integrative Medicine, found that integrating acupuncture within a multidisciplinary team-based model dramatically reduced opioid use for members while significantly reducing out-of-pocket costs for care.
Integrating acupuncture within a new "Primary Health" model
At Crossover, acupuncturists are part of integrated care teams, working closely alongside primary care physicians, nurses, physical therapists, chiropractors, mental health therapists, health coaches, and care navigators to proactively prevent, diagnose, treat, and counsel employees for both acute and chronic health conditions. Acupuncture was added to our model in 2012 and is now offered at more than a dozen on-site and near-site corporate health centers. At the core of the Crossover model is a team-based approach to care that co-locates providers working across sub-specialties to foster a dynamic of close collaboration, care coordination, and data sharing.
Within the care team, the primary care provider "quarterbacks" much of the patient's care, managing outside specialty referrals, labs, and medications. For many patients, however, their first clinic experience is often with an ancillary service — physical therapy or behavioral health, for example — and from there they are referred to other care team members. This "warm hand-off" between care team members ensures information flow and continuity of care. Providers in this model are either salaried or paid a flat hourly rate, with net promoter score (NPS) and patient satisfaction serving as the primary performance metrics. This payment model diverges from fee-for-service models by incentivizing an exclusive focus on patient experience, health outcomes and overall well-being.
Within Crossover, acupuncturists practice in close collaboration with other members of a Physical Medicine team, including physical therapists, chiropractors, massage therapists, and fitness trainers. While originally included in the model primarily for relief of MSK complaints, Crossover's acupuncture services have expanded to include care for other more traditional chinese medicine practices that include addressing complaints related to stress, anxiety, and insomnia. With their training in holistic medicine, they are uniquely suited to observe the interplay among symptoms, treat them with acupuncture where appropriate, and make in-team referrals where other interventions are called for.
A dramatic reduction in opioid prescribing
For this research study, we performed a retrospective evaluation of all 1,790 adult patients seen over 8,991 visits in Crossover's acupuncture departments at 11 of the employer-sponsored clinics between January 1, 2018 and January 1, 2019. The vast majority of these visits were for MSK complaints and, as shown in Figure 1 below, 90% of members received care in other departments, underscoring the multidisciplinary approach to treatment.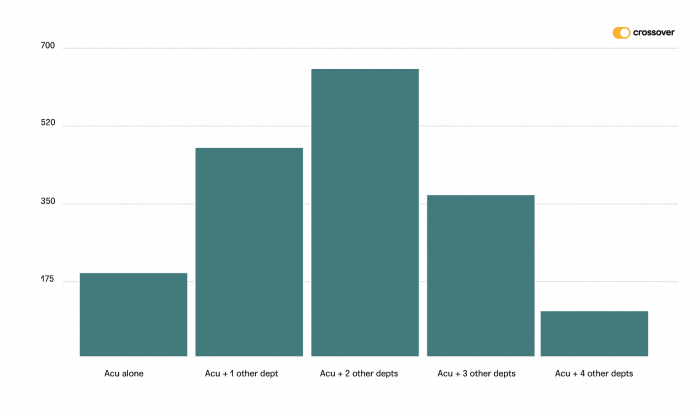 Figure 1. Distribution of care across multiple integrated departments
Member data were collected using electronic health records to identify the type of care provided and to assess whether opioids were prescribed. We used aggregated claims drawn from multiple employers and geographies to assess comparable opioid prescribing and use patterns in the broader population. Patient satisfaction was measured via a survey administered after their first visit and every fourth subsequent acupuncture visit.
Our study found that just one in 36, or 3%, of Crossover members without cancer seen in acupuncture departments received opioid prescriptions, compared to the national average of one in five. Seventy percent of the opioid prescriptions written for members were for cough suppressants, indicating they were unrelated to MSK complaints. With a maximum co-pay of $40 per visit, compared to up to $125 for similar treatments in the community, members experienced significantly lower out-of-pocket costs. And they expressed overall delight with the experience, with 93% reporting satisfaction and a net promoter score of 92.
Setting a new standard of care
The cost of employer-sponsored annual healthcare premiums topped $21,000 in 2020, with most experts predicting it will rise sharply post-pandemic due to missed appointments and diagnoses. MSK claims represent 16 to 22 percent of medical spend in most employer plans, a number that doesn't begin to capture the full downstream impact from disability claims and lost productivity. Meanwhile, opioid prescribing rates for MSK complaints, while in decline nationally, continue at alarming levels in many states and counties.
This study suggests a better way forward. With an integrated team-based approach to MSK care, where incentives are aligned with patient outcomes, we can establish a new evidence-based standard of care that defaults to non-pharmacological approaches and promotes long-term well-being over short-term disease treatment. As this study underscores, the opportunity for employers to reduce costs while promoting a healthier, happier workforce is enormous.
Joe Davis, LAc
Crossover Health