YOUR PASSPORT TO A SAFE Working and Living Space
The Passport app provided by Crossover Health is here to give you peace of mind at work, as well as in your home, and in your community. Think of this as your "passport" to a healthy environment.

GET THE APP
By using the Passport app you'll be taking reasonable precautions to reduce exposure to COVID-19 while also ensuring a safe work environment. The app supports employees in safely returning to work, and it will also be a helpful tool for those who work remotely as they guard their health status in their homes and communities.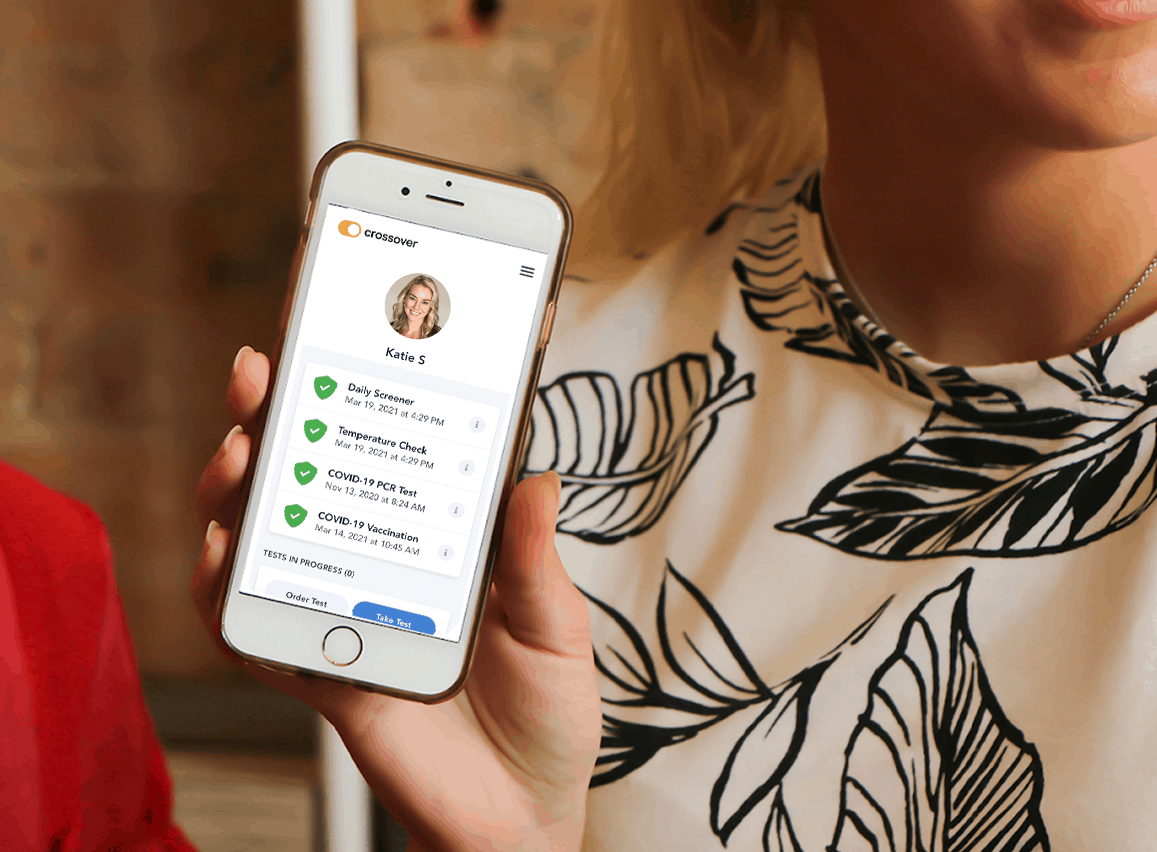 HOW PASSPORT WORKS
Passport provides you with a simple, self-reported daily questionnaire and manual temperature screener. Both are completed on the app at home prior to commuting or starting your work day. Your result will either clear you to enter physical sites, or, if you do not pass, guide you to either obtain a virtual consult or order a diagnostic COVID-19 test. For those requiring or requesting a consult, the app will redirect you to a care team. Each employee will also have the ability to order a COVID-19 diagnostic test and have the results available directly in Passport.
FEATURES
Daily symptom/exposure and temperature screenings
Order an elective COVID-19 diagnostic test, when needed
Show proof of vaccination
Consult with the Crossover care team, when needed
After entering your daily screening information, you will receive a "green light" if you are cleared for work. If you receive a "red light," you will be prompted to stay home for the day.
The details of this "red light", or failed screening process, are listed below.
If your temperature is greater than 100.0 degrees or you are considered at risk based on your daily checkup screener, you will receive an auto response instructing you to "not proceed to campus." 

The auto response will advise you on your company's protocols for returning to campus. This may include notifying your manager or designated compliance officer that you will not be going onsite to work. You will also be given the option to directly contact your Crossover care team or prompted to contact your personal PCP in your community for further advice.

If deemed necessary, a COVID-19 diagnostic test may be ordered. You may choose to obtain testing within your local community, or have a test shipped directly to your home. The results of the test shipped to your home will be available within Passport. 

If you test positive for COVID-19, you should follow CDC quarantine guidelines and consult further with your doctor. (Crossover members can be connected to their care team within Passport using the Consults tab.)
COMMON QUESTIONS
How can I get help with the Passport app?
Can I get a test through Passport even if I don't have symptoms?
Yes, you can order the Spectrum RT-PCR saliva-based home test directly through Passport. Please note, this is an elective test that is self-paid and will not be reimbursed by insurance. To order the test through the app, go to the Orders tab, then Add to Cart. You will then select the "Reason for Ordering COVID-19 Test" from the drop down list in checkout (see below). Your request will be submitted for review by a Crossover Care Team member. You are only able to order a test for yourself (not friends or family). A self-use attestation will be required during the "Take Test" registration (once you have the test kit in hand).

To order the test, you must be able to say "yes" to at least one of the following criteria:

- I am planning travel and a test is required

- I am required to test for a work, school, or community event

- I have had a recent potential mass exposure (e.g., attended a gathering with >50 people)

- I will be in close proximity to vulnerable populations and want to know my COVID-19 status to reduce risk

- I have symptoms

- I know or believe I have been exposed to COVID-19

If Passport is part of your employer's Return to Campus program, your Reason To Test dropdown might include a variation of this list. Employers may choose to cover the cost of the home test if their employees meet their occupational health testing criteria.
How do I know if my request for the Spectrum RT-PCR saliva-based home test is approved?
Here's how approvals work:

- If you check at least one of the "Reasons to Test" (see above), your test will be reviewed by a Crossover Care Team member and approved.

- If you don't select one of the reasons, you won't be able to check out, and you'll see a note that reads "If your reason for requesting a test is not listed above, please initiate an Episode of Care with our virtual team to evaluate your need for COVID-19 testing."

- If you click the Consult tab, you will be taken to our membership sign-in page where you can message your Care Team.
How long will I wait for approval and for results from the Spectrum RT-PCR saliva-based home test?
If your request for approval is submitted before 5pm EST, it will be reviewed on that day; When approved, the test will be sent to your home via overnight UPS shipping

- Your test kit should arrive to you by 10:30am PT.

- A prepaid shipping label for an overnight return shipment will come with it.

- You are responsible for dropping your kit off at a UPS drop box or service center location.

- Your test will be processed within 48 hours of receipt by the lab.

- You'll receive notification of results in your Passport app.
Can I use HSA dollars to purchase my diagnostic COVID-19 test with Crossover?
Yes. You can use your HSA dollars to pay for a diagnostic COVID-19 test. You will need documentation (a receipt) itemizing the test costs. With HSAs, reviews of the receipt are not required. However, you are required to keep your receipts for tax purposes in the event of an IRS audit.
Can I store my COVID-19 vaccination record in Passport?
Yes. Records must first be verified for authenticity by the Crossover Care Team. To start this process, you will go to the "COVID-19 Vaccination" section of your app and select "Request that Crossover notarize my vaccination record." From there, you will be asked to upload a copy of your vaccination record and the administering facility's information. Once verified, you will receive a digital copy of your record for safe keeping.